Faraday's Laws of Electrolysis
Key Concepts
First Law :
&nbsp &nbsp The mass of a substance produced by electrolysis is proportional to the quantity of electricty used.

&nbsp &nbsp In order to produce more substance electrolytically we must use more electricity.

Second Law:
&nbsp &nbsp * The amount of electricity in coulombs required to produce 1 mole of a substance is a simple whole number multiple of 96 500#

&nbsp &nbsp The quantity 96,500 is given the name the Faraday (or Faraday Constant) and the symbol F
&nbsp &nbsp F is equal to the quantity of electricity carried by one mole of electrons:
&nbsp &nbsp F = Avogadro's Number x charge on electron in coulombs = 6.022 x 1023 mol-1 x 1.602192 x 10-19 C
&nbsp &nbsp F = 96,484 C mol-1 (usually rounded up to 96,500 C mol-1 in high school chemistry)

Faraday's Laws of Electrolysis Calculations: Q = n(e-) x F

&nbsp &nbsp Q = quantity of electricity measured in coulombs (C)
&nbsp &nbsp n(e-) = moles of electrons used
&nbsp &nbsp F = the Faraday (Faraday constant) = 96,500 C mol-1

We can calculate the mass of a substance produced during an electrolysis experiment by:

&nbsp &nbsp i) calculating the moles of electrons used: n(e-) = Q/F

&nbsp &nbsp ii) calculating the moles of substance produced using the balanced reduction (or oxidation) half reaction equation

&nbsp &nbsp iii) using the moles of substance to calculate the mass of substance: mass = moles x molar mass
Examples of the Application of Faraday's Laws of Electrolysis
Become an AUS-e-TUTE Member and get the full tutorial including worked examples.
AUS-e-TUTE Membership Advantages
---
* More formally we say that for a given quantity of electricity the quantity of substance produced is proportional to its equivalent weight.
#The figure is closer to 96,484 but is usually rounded off to 96,500 for school chemistry calculations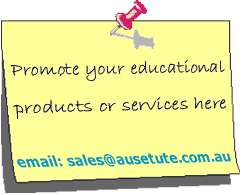 Search this Site
You can search this site using a key term or a concept to find tutorials, tests, exams and learning activities (games).
&nbsp
Become an AUS-e-TUTE Member
AUS-e-TUTE's Blog
Subscribe to our Free Newsletter
Email

to
subscribe to AUS-e-TUTE's free quarterly newsletter, AUS-e-NEWS.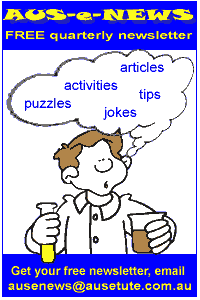 AUS-e-NEWS is emailed out in
December, March, June, and September.
&nbsp
Ask Chris, the Chemist, a Question
The quickest way to find the definition of a term is to ask Chris, the AUS-e-TUTE Chemist.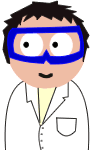 Chris can also send you to the relevant
AUS-e-TUTE tutorial topic page.
&nbsp
Related AUS-e-TUTE Topics
Oxidation and Reduction
&nbsp
&nbsp
Bookmark AUS-e-TUTE

&nbsp Bookmark this site!
&nbsp
&nbsp