Search for an AUS-e-TUTE Resource
Not an AUS-e-TUTE Member?
You will need to be an AUS-e-TUTE Member to access members tutorials, games, drills, tests and exams with worked solutions.

You will need to be either a student or teacher registered with a class or school group to access the interactive learning activities and online quizzes.

You must be a Teacher registered with an AUS-e-TUTE Class or School group to access the worksheet wizards.

You can find out more about AUS-e-TUTE Membership on our About Membership page.

You can become an AUS-e-TUTE Member by completing one of the forms on our registration page.
&nbsp
Need Help?
If you can't find a tutorial, test, exam or game on the topic you want,

email us

and tell us what you need!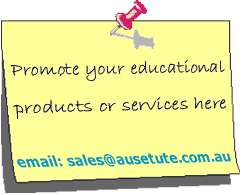 Become an AUS-e-TUTE Member
Subscribe to our Free Newsletter
Email

to
subscribe to AUS-e-TUTE's free quarterly newsletter, AUS-e-NEWS.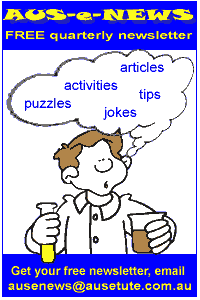 AUS-e-NEWS is emailed out in
March, June, September and December.
AUS-e-TUTE's Blog
Ask Chris, the Chemist, a Question
The quickest way to find the definition of a term is to ask Chris, the AUS-e-TUTE Chemist.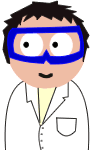 Chris can also send you to the relevant
AUS-e-TUTE tutorial topic page.
Why Study Chemistry?
What is Chemistry?
General Interest Links
IUPAC
Celebrate Mole Day
Mole Day is celebrated annually between 6:02a.m. and 6:02 p.m. on October 23 in commemoration of Avogadro's Number,
6.02 x 1023.
About AUS-e-TUTE
If you've ever wondered:
Who is involved in AUS-e-TUTE?
How did it all begin?
What is AUS-e-TUTE doing now ?
then you should start by reading A Brief History of AUS-e-TUTE.
Share This Page