s, p, d, and f Blocks of the Periodic Table of the Elements
Key Concepts
Electrons making up an atom are arranged in subshells.1
There are four types of subshells.
Each of the subshells is designated by a letter, either s, p, d or f:


s subshell, p subshell, d subshell, and f subshell

By considering which type of subshell is being filled with electrons we can see a pattern in the Periodic Table:

s subshell: Group 1 , Group 2, hydrogen and helium
d subshell: Groups 3 to 12 (transition metals)
p subshell: Groups 13 to 18
f subshell: lanthanoids and actinoids2
Location of s ,p, d, and f Blocks in the Periodic Table
The Periodic Table below probably looks a little bit different to the one you are used to seeing.
We have separated hydrogen (H) and helium (He) from the other main group elements.
Notice the location of the labels:
s block: first 2 columns on the left hand side of the Periodic Table
d block: 10 columns in the middle of the Periodic Table
p block: last 6 columns on the right hand side of the Periodic Table
f block: bottom 2 rows separated from the rest of the Periodic Table
Period 1
1
H
2
He
Group 1
Group 2
Group 3
Group 4
Group 5
Group 6
Group 7
Group 8
Group 9
Group 10
Group 11
Group 12
Group 13
Group 14
Group 15
Group 16
Group 17
Group 18
s block
d block
p block
Period 2
3
Li
4
Be
&nbsp
5
B
6
C
7
N
8
O
9
F
10
Ne
Period 3
11
Na
12
Mg
13
Al
14
Si
15
P
16
S
17
Cl
18
Ar
Period 4
19
K
20
Ca
21
Sc
22
Ti
23
V
24
Cr
25
Mn
26
Fe
27
Co
28
Ni
29
Cu
30
Zn
31
Ga
32
Ge
33
As
34
Se
35
Br
36
Kr
Period 5
37
Rb
38
Sr
39
Y
40
Zr
41
Nb
42
Mo
43
Tc
44
Ru
45
Rh
46
Pd
47
Ag
48
Cd
49
In
50
Sn
51
Sb
52
Te
53
I
54
Xe
Period 6
55
Cs
56
Ba
57
La
72
Hf
73
Ta
74
W
75
Re
76
Os
77
Ir
78
Pt
79
Au
80
Hg
81
Tl
82
Pb
83
Bi
84
Po
85
At
86
Rn
Period 7
87
Fr
88
Ra
89
Ac
104
Rf
105
Db
106
Sg
107
Bh
108
Hs
109
Mt
110
Ds
111
Rg
112
Cn
&nbsp
114
Fl
116
Lv

f block
Lanthanoids
58
Ce
59
Pr
60
Nd
61
Pm
62
Sm
63
Eu
64
Gd
65
Tb
66
Dy
67
Ho
68
Er
69
Tm
70
Yb
71
Lu
Actinoids
90
Th
91
Pa
92
U
93
Np
94
Pu
95
Am
96
Cm
97
Bk
98
Cf
99
Es
100
Fm
101
Md
102
No
103
Lr
Want to play a Blocks of the Periodic Table game?

First, you need to Join AUS-e-TUTE
Relationship between s ,p, d, and f Blocks and the Periodic Table Groups
There is a distinct pattern to the location of the s, p, d and f blocks, which is directly related to the Groups of the Periodic Table:
Block
Groups
s block
Group 1 (alkali metals) and Group 2 (alkaline earth metals)
plus Period 1 (hydrogen and helium)
d block
Groups 3 to 12 (transition metals)
p block
Groups 13 to 18
(includes all Noble Gases, halogens and chalcogens)
f block
Lanthanoids and Actinoids
Want to take a Blocks of the Periodic Table test?

You need to Join AUS-e-TUTE first!
Relationship between s ,p, d, and f Blocks and Electronic Configuration
The labels s, p, d and f blocks of the Periodic Table refer to the subshell that is being filled with electrons.
Group 1 elements occur at the beginning of a new row (Period) of the Periodic Table.
The highest energy level (valence shell) contains only 1 electron in an s subshell.
Group 2 elements occur directly to the right of Group 1 elements.
The highest energy level (valence shell) contains 2 electrons, both electrons occupy an s subshell.
The s subshell for this energy level (shell) is now full.
The highest energy level (valence shell) of a Group 13 element already has 2 electrons in an s subshell, so the next electron occupies a p subshell to make 3 valence electrons in total (2 s electrons + 1 p electron).
As you proceed from left to right across the Period from Group 13 to Group 18 elements, electrons are being added to the p subshell.
Group 18 elements have 2 s electrons and 6 p electrons in their highest energy level (shell) which completes the s and p subshell.
Transition metals are filling their d subshell with electrons, starting with Group 3 elements which have 1 electron in a d subshell.
Group 12 elements have 10 electrons in a d subshell, which corresponds to a completed d subshell.
Lanthanoids and actinoids are filling their f subshells with electrons.
---
What would you like to do now?
---
1 Each subshell is made up of a set orbitals, the orbitals reflect which subshell they belong to by using the same letter, that is, there are s orbitals, p orbitals, d orbitals and f orbitals. However, although there is only one s orbital in the s subshell, there are 3 p orbitals in the p subshell, 5 d orbitals in the d subshell, and 7 f orbitals in the 5 subshell. So, for the purposes of this discussion we will refer to s subshells, p subshells, d subshells and f subshells rather than to orbitals.

2 Lanthanoids are also referred to as lanthanides, and actinoids are also referred to as actinides.
Strictly speaking the lanthanoids are the 14 elements following lanthanum (La) in the Periodic Table, but since the term "lanthanoid" is used to indicate that these elements form a closely related group of which lanthanum is the prototype, the term is usually also applied to lanthanum itself.
In this discussion, we use the term lanthanoid in its strictest sense as meaning only the 14 elements immediatedly following lanthanum in the periodic table.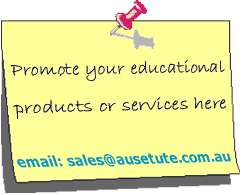 Search this Site
You can search this site using a key term or a concept to find tutorials, tests, exams and learning activities (games).
Become an AUS-e-TUTE Member
AUS-e-TUTE's Blog
Recent AUS-e-BLOG Posts:
Subscribe to our Free Newsletter
Email

to
subscribe to AUS-e-TUTE's free quarterly newsletter, AUS-e-NEWS.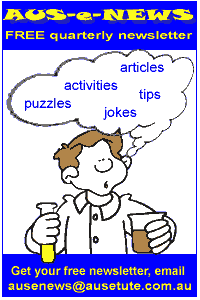 AUS-e-NEWS is emailed out in
December, March, June, and September.
Ask Chris, the Chemist, a Question
The quickest way to find the definition of a term is to ask Chris, the AUS-e-TUTE Chemist.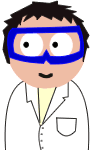 Chris can also send you to the relevant
AUS-e-TUTE tutorial topic page.
Share this Page