Scientific (exponential) Notation
Key Concepts
Scientific notation, or exponential notation, is a convenient way to write down a very large or a very small number.
In scientific notation each number is written as a product of two numbers:

a coefficient x 10an exponent

Coefficients are usually expressed with one digit to the left of the decimal point.
An exponent gives the position of the decimal point in the number and is either:
&nbsp &nbsp positive (generally for numbers greater than or equal to 10)
&nbsp &nbsp zero (generally for numbers between 0 and 10)
&nbsp &nbsp negative (generally for numbers less than 0)
Converting a Number to Scientific (exponential) Notation
Write 0.015 in scientific (exponential) notation.

First, write the coefficient : 1.5

Second, count the places between the current decimal place and its position in the coefficient: 2

Third, determine the sign of the exponent. Moving to the right gives a negative sign (the number is less than 0): -

Finally write the number in scientific notation: 1.5 x 10-2

Write 256.35 in scientific (exponential) notation.

First, write the coefficient : 2.5635

Second, count the places between the current decimal place and its position in the coefficient: 2

Third, determine the sign of the exponent. Moving to the left gives a positive sign (the number is greater than 10): +

Finally write the number in scientific notation: 2.5635 x 10+2 which is usually written as 2.5635 x 102

Write 42.76 in scientific (exponential) notation.

First, write the coefficient : 4.276

Second, count the places between the current decimal place and its position in the coefficient: 1

Third, determine the sign of the exponent. Moving to the left gives a positive sign (the number is greater than 10): +

Finally write the number in scientific notation: 4.276 x 101

Write the number 3.56 in scientific (exponential) notation.

First, write the coefficient : 3.56

Second, count the places between the current decimal place and its position in the coefficient: 0

Zero is neither positive nor negative in sign.

Finally write the number in scientific notation: 3.56 x 100
Converting Scientific (exponential) Notation to a Decimal System Number
Write 1.23 x 103 as a decimal system number.

First, decide which way the decimal point will move based on whether the exponent is positive (move to right) or negative (move to left) : + therefore moves to right (number is greater than 10)

Second, decide how many places the decimal point will move based on the size of the exponent: 3 places

Finally write the number using zeroes to fill in the places between the decimal point in the coefficient and in the new number: 1230

Write 4.76 x 10-2 as a decimal system number.

First, decide which way the decimal point will move based on whether the exponent is positive (move to right) or negative (move to left) : - therefore moves to left (number is less than 0)

Second, decide how many places the decimal point will move based on the size of the exponent: 2 places

Finally write the number using zeroes to fill in the places between the decimal point in the coefficient and in the new number : 0.0467

Write 5.22 x 101 as a decimal system number.

First, decide which way the decimal point will move based on whether the exponent is positive (move to right) or negative (move to left) : + therefore moves to right (number is greater than 10)

Second, decide how many places the decimal point will move based on the size of the exponent: 1 place

Finally write the number using zeroes to fill in the places between the decimal point in the coefficient and in the new number if necessary: 52.2
---
What would you like to do now?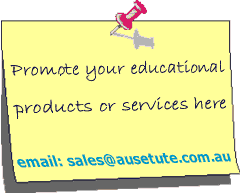 Search this Site
You can search this site using a key term or a concept to find tutorials, tests, exams and learning activities (games).
&nbsp
Become an AUS-e-TUTE Member
AUS-e-TUTE's Blog
Recent AUS-e-BLOG Posts:
Subscribe to our Free Newsletter
Email

to
subscribe to AUS-e-TUTE's free quarterly newsletter, AUS-e-NEWS.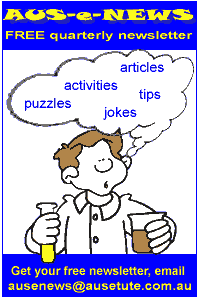 AUS-e-NEWS is emailed out in
December, March, June, and September.
&nbsp
Ask Chris, the Chemist, a Question
The quickest way to find the definition of a term is to ask Chris, the AUS-e-TUTE Chemist.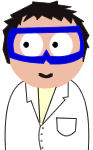 Chris can also send you to the relevant
AUS-e-TUTE tutorial topic page.
&nbsp
Share this Page
&nbsp
&nbsp