Atomic Absorption Spectroscopy (AAS)
Key Concepts
Atomic Absorption Spectroscopy (AAS) was developed by CSIRO Scientist Dr Alan Walsh in the 1950s.
Light with specific frequencies is absorbed by different metals when they vaporize in a flame.
The energy absorbed excites electrons, moving them from their ground state to a higher energy state.
Atomic Absorption Spectroscopy uses hollow cathode lamps to emit light with these frequencies which is then absorbed by the sample containing the metal ion.
The amount of light absorbed is proportional to the concentration of the metal ion in solution.
Concentrations are often expressed as mg/L or ppm.
The amount of light absorbed by the sample is compared to the amount of light absorbed by a set of standards of known concentration.
Atomic Absorption Spectroscopy can be used to measure the concentration of metals in :
mining operations and in the production of alloys as a test for purity
contaminated water, especially heavy metal contamination in industrial waste water
organisms, such as mercury in fish
air, eg lead
food
Want the Full Tutorial and Worked Examples using Atomic Absorption Spectroscopy (AAS) for Analysis ?
Become an AUS-e-TUTE Member and get the full tutorial including examples.
AUS-e-TUTE Membership Advantages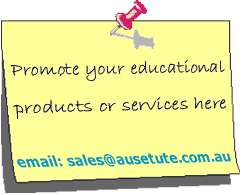 Search this Site
You can search this site using a key term or a concept to find tutorials, tests, exams and learning activities (games).
&nbsp
Become an AUS-e-TUTE Member
AUS-e-TUTE's Blog
Subscribe to our Free Newsletter
Email

to
subscribe to AUS-e-TUTE's free quarterly newsletter, AUS-e-NEWS.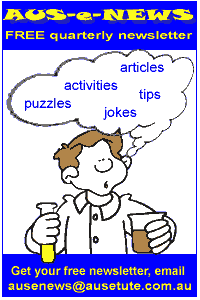 AUS-e-NEWS is emailed out in
December, March, June, and September.
&nbsp
Ask Chris, the Chemist, a Question
The quickest way to find the definition of a term is to ask Chris, the AUS-e-TUTE Chemist.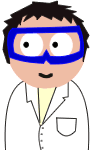 Chris can also send you to the relevant
AUS-e-TUTE tutorial topic page.
&nbsp
Related AUS-e-TUTE Topics
Metals and Nonmetals
&nbsp
&nbsp
Bookmark AUS-e-TUTE

&nbsp Bookmark this site!
&nbsp
&nbsp