Halogenation of Hydrocarbons
Key Concepts
Saturated hydrocarbons (alkanes)
Unsaturated hydrocarbons (alkenes and alkynes)
Animated Tutorial
Examples
The most commonly demonstrated halogenation reactions are brominations using bromine water, Br2, which is a red-brown colour.
As the bromination reaction proceeds, the reaction mixture de-colourises.
Alkane + Halogen : Substitution Reaction
Under standard laboratory conditions, alkanes do not react with halogens.
Alkanes can react with halogens in the presence of UV light.
During this reaction, halogen atoms substitute for (replace) hydrogen atoms, one at a time, producing a haloalkane and a hydrogen halide.
ethane
+
bromine water
UV
→
bromoethane
+
hydrogen bromide

&nbsp
H
|
&nbsp
H
|
&nbsp
H-
C
-
C
-H
&nbsp
|
H
&nbsp
|
H
&nbsp

+
Br-Br
UV
→

&nbsp
H
|
&nbsp
H
|
&nbsp
H-
C
-
C
-Br
&nbsp
|
H
&nbsp
|
H
&nbsp

+
H-Br
Further substitutions are possible.
Alkene + Halogen : Addition Reaction
Alkenes readily react with halogens under standard laboratory conditions.

In this addition reaction, halogens atoms are added across the double bond of the alkene.

In an alkene containing only one double bond, the double bond is broken, the halogen atoms are added, and, the only product of the reaction will be a dihaloalkane.
In a bromination reaction, if excess alkene is present, then the reaction mixture will change from a red-brown colour to colourless.
ethene
(ethylene)
+
bromine water
→
1,2-dibromoethane

&nbsp
H
|
&nbsp
H
|
&nbsp
&nbsp
C
=
C
&nbsp
&nbsp
|
H
&nbsp
|
H
&nbsp

+
Br-Br
→

&nbsp
Br
|
&nbsp
Br
|
&nbsp
H-
C
-
C
- H
&nbsp
|
H
&nbsp
|
H
&nbsp
---
What would you like to do now?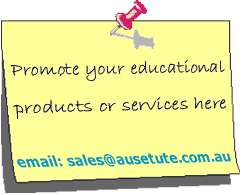 Search this Site
You can search this site using a key term or a concept to find tutorials, tests, exams and learning activities (games).
&nbsp
Become an AUS-e-TUTE Member
AUS-e-TUTE's Blog
Subscribe to our Free Newsletter
Email

to
subscribe to AUS-e-TUTE's free quarterly newsletter, AUS-e-NEWS.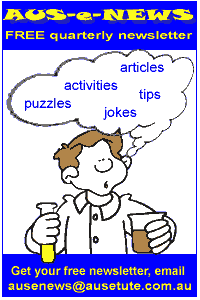 AUS-e-NEWS is emailed out in
December, March, June, and September.
&nbsp
Ask Chris, the Chemist, a Question
The quickest way to find the definition of a term is to ask Chris, the AUS-e-TUTE Chemist.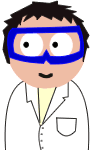 Chris can also send you to the relevant
AUS-e-TUTE tutorial topic page.
Share this Page
&nbsp
&nbsp