KP and Kc
Key Concepts
Example : Calculating Equilibrium Partial Pressure
A container at 800oC was filled NOCl gas which decomposes to form NO gas and chlorine gas.
The equilibrium partial pressure of NOCl was 0.657atm, what was the partial pressure of NO gas?
KP = 1.8 x 10-2 &nbsp &nbsp &nbsp &nbsp for the reaction &nbsp &nbsp &nbsp &nbsp NOCl(g)

NO(g) + ½Cl2(g)
Write the decomposition equation:

NOCl(g) NO(g) + ½Cl2(g)

Write the expression for KP

Write expressions for the equilibrium partial pressure of each species:
PNOCl = 0.657atm
PNO = xatm
PCl2 = ½xatm
Subsitute these values into the expression for KP


1.8 x 10-2 =
x(½x)½

---

0.657

Simplify the expression for KP and solve for x

1.8 x 10-2 x 0.657= (½x3)½
0.0118 = (½x3)½
(0.0118)2 = ½x3
1.4 x 10-4 = ½x3
1.4 x 10-4 x 2 = x3
2.8 x 10-4 = x3
3√2.8 x 10-4 = x
0.065 = x = PNO

Check your answer by substituting the values back into the equation:

PNOCl = 0.657atm
PNO = 0.065atm
PCl2 = ½ x 0.065 = 0.0325atm


KP =
PNOP½Cl2

---

PNOCl
KP =
0.065(0.0325)½

---

0.657

KP = 1.8 x 10-2
Example : Converting Kc to KP
For the equilibrium:

2NOCl(g)

2NO(g) + Cl2(g)


Kc = 3.75 x 10-6 at 796oC.
Calculate KP for this reaction at this temperature.
Write the expression to convert Kc to Kp:

KP = Kc(RT)Δn

Extract the relevant data from the question:

KP = ?
Kc = 3.75 x 10-6
R = 0.0821 (Ideal Gas Constant)
T = 796oC = 796 + 273 = 1069K
Δn = (2 + 1) - 2 = 1

Substitute the values into the equation:

KP = Kc(RT)Δn
KP = 3.75 x 10-6(0.0821 x 1069)1
KP = 3.29 x 10-4
---
What would you like to do now?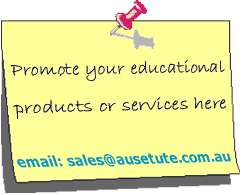 Search this Site
You can search this site using a key term or a concept to find tutorials, tests, exams and learning activities (games).
&nbsp
Become an AUS-e-TUTE Member
AUS-e-TUTE's Blog
Subscribe to our Free Newsletter
Email

to
subscribe to AUS-e-TUTE's free quarterly newsletter, AUS-e-NEWS.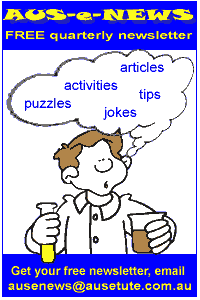 AUS-e-NEWS is emailed out in
December, March, June, and September.
&nbsp
Ask Chris, the Chemist, a Question
The quickest way to find the definition of a term is to ask Chris, the AUS-e-TUTE Chemist.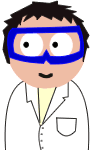 Chris can also send you to the relevant
AUS-e-TUTE tutorial topic page.
Share this Page