Redox Titrations
Key Concepts
A redox titration is a volumetric method that relies on the oxidation of the analyte (substance to be analysed).
The titrant (solution of known concentration) is often an oxidising agent.
At the equivalence point E(forward) = E(reverse), or, ΔE(cell) = 0
If the redox reaction does not produce a well-defined colour change at the equivalence point, an indicator should be used in the titration.
The redox titration curve is a plot of Electrode Potential (volts) vs volume of titrant or analyte.
Calculations
Write a balanced half equation for the oxidation reaction.
Write a balanced half equation for the reduction reaction.
Add the oxidation and reduction half equations together to give a balanced redox reaction equation.
Extract all the relevant information from the question.
Check the data for consistency, for example, concentrations are often given in M or mol L-1 but volumes are often given in mL. You will need to convert the mL to L for consistency. The easiest way to do this is to multiply the volume in mL x 10-3 (enter the volume in mL into your calculator, then click "EXP", then enter -3 and the conversion is done!).
Calculate the moles of reactant (titrant) (n) for which you have both volume (V) and concentration (molarity, c): n = c x V
From the redox reaction equation find the mole ratio of known reactant (titrant) : unkown reactant (analyte)
Calculate moles of unknown reactant (analyte) using this mole ratio.
From the volume (V) of the unknown reactant (analyte) and its calculated moles (n), calculate its concentration ( molarity, c): c = n ÷ V
Examples of Redox Titration Calculations
Become an AUS-e-TUTE Member and get the full tutorial including worked examples.
AUS-e-TUTE Membership Advantages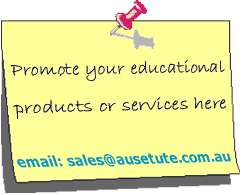 Search this Site
You can search this site using a key term or a concept to find tutorials, tests, exams and learning activities (games).
AUS-e-TUTE's Blog
Subscribe to our Free Newsletter
Email

to
subscribe to AUS-e-TUTE's free quarterly newsletter, AUS-e-NEWS.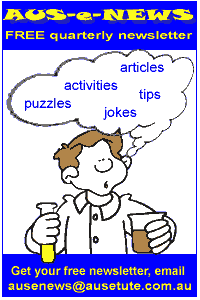 AUS-e-NEWS is emailed out in
December, March, June, and September.
&nbsp
Ask Chris, the Chemist, a Question
The quickest way to find the definition of a term is to ask Chris, the AUS-e-TUTE Chemist.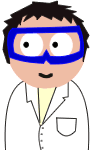 Chris can also send you to the relevant
AUS-e-TUTE tutorial topic page.
&nbsp
Related AUS-e-TUTE Topics
Oxidation Numbers (States)
&nbsp
&nbsp
Bookmark AUS-e-TUTE

&nbsp Bookmark this site!
&nbsp
&nbsp