Determining Total Hardness in Water by Complexometric Titration Chemistry Tutorial
Key Concepts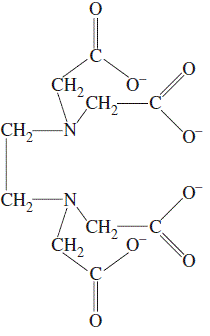 Calcium and magnesium salts dissolved in water cause water hardness.
Water hardness can be measured using a titration with ethylenediaminetetraacetic acid (EDTA).

The ionised form of EDTA is shown on the right.
EDTA dissolved in water forms a colourless solution.

At pH 10, calcium and magnesium ions form colourless, water soluble, complexes with EDTA:

calcium ion complexed by EDTA : CaEDTA2-
magnesium ion complexed by EDTA : MgEDTA2-

An indicator, known as a metal ion indicator, is required for the titration.

Eriochromshwartz-T (Erio T) is a suitable indicator.
Eriochromshwartz-T is wine-red in hard water, but turns sky blue in the presence of free EDTA ions in the solution.

Endpoint of the titration is when all the Ca2+ and Mg2+ ions have been complexed by the EDTA.

Before the endpoint, Ca2+ and Mg2+ are in excess, there is no free EDTA in solution.
Immediately after the endpoint, there is an excess of EDTA.

It is essential that deionised water (water in which ions have been removed) is used in preparing all solutions, and in rinsing the conical flask.

Ca2+ and Mg2+ ions must NOT be present in the water used to prepare the solutions, or in rinsing.