Electrolysis Concepts
Key Concepts
Electrolysis: the process in which an electric current is used to bring about a chemical reaction which does not occur spontaneously (Eo for the electrolytic cell is negative*).
Electrolytic Cell: converts electrical energy into chemical energy.
Applied emf must be greater than the emf for the cell, ie greater than Eo for the spontaneous redox reaction.
Electrodes : conductors used to permit the flow of electrons in an electrochemical cell.
One electrode is the anode, the other is the cathode.
Anode: Oxidation occurs at the anode.
Anions (negatively charged ions) migrate to the anode.
Anode is positive.
Anode disintegrates.
Cathode: Reduction occurs at the cathode.
Cations (positively charged ions) migrate to the cathode.
Cathode is negative.
Solid deposits at the cathode.
Electron flow: from anode to cathode.
Electrons flow from positive to negative.
If more than one reaction is possible, the reaction with the lowest Eo will occur.
Examples of Electrolysis and Electrolytic Cells
Become an AUS-e-TUTE Member and get the full tutorial including worked examples.
AUS-e-TUTE Membership Advantages
---
*This discussion assumes that all species are present in their standard states so that the electrode potentials are standard electrode potentials.
&nbsp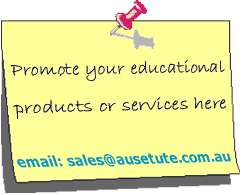 &nbsp
Search this Site
You can search this site using a key term or a concept to find tutorials, tests, exams and learning activities (games).
&nbsp
Become an AUS-e-TUTE Member
&nbsp
Subscribe to our Free Newsletter
Email

to
subscribe to AUS-e-TUTE's free quarterly newsletter, AUS-e-NEWS.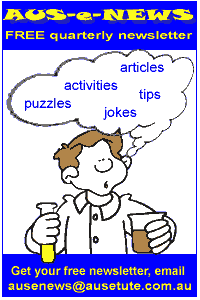 AUS-e-NEWS is emailed out in
December, March, June, and September.
&nbsp
Ask Chris, the Chemist, a Question
The quickest way to find the definition of a term is to ask Chris, the AUS-e-TUTE Chemist.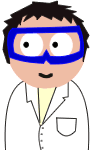 Chris can also send you to the relevant
AUS-e-TUTE tutorial topic page.
&nbsp
Related AUS-e-TUTE Topics
Oxidation and Reduction
&nbsp
&nbsp
Bookmark AUS-e-TUTE

&nbsp Bookmark this site!
&nbsp
&nbsp